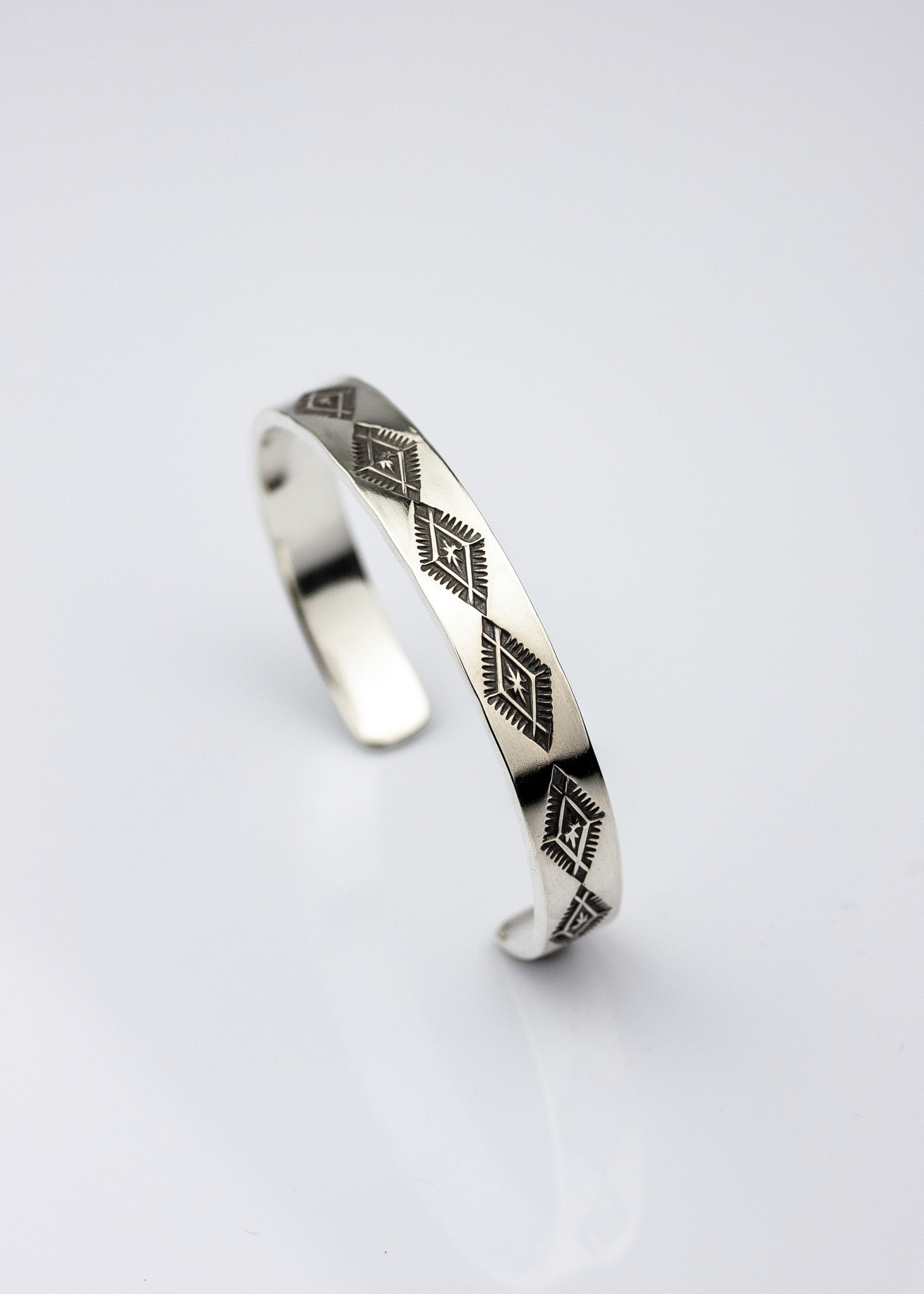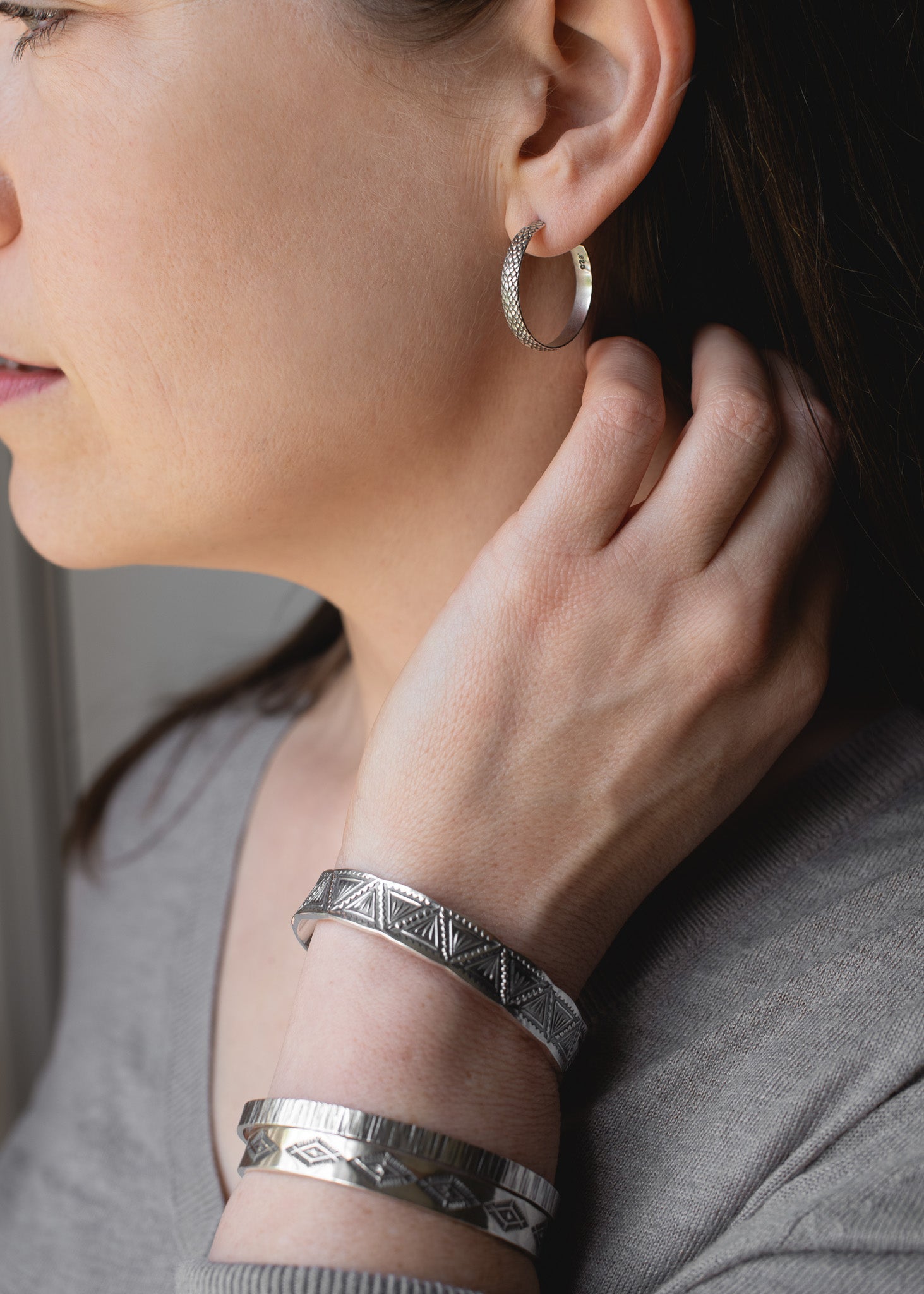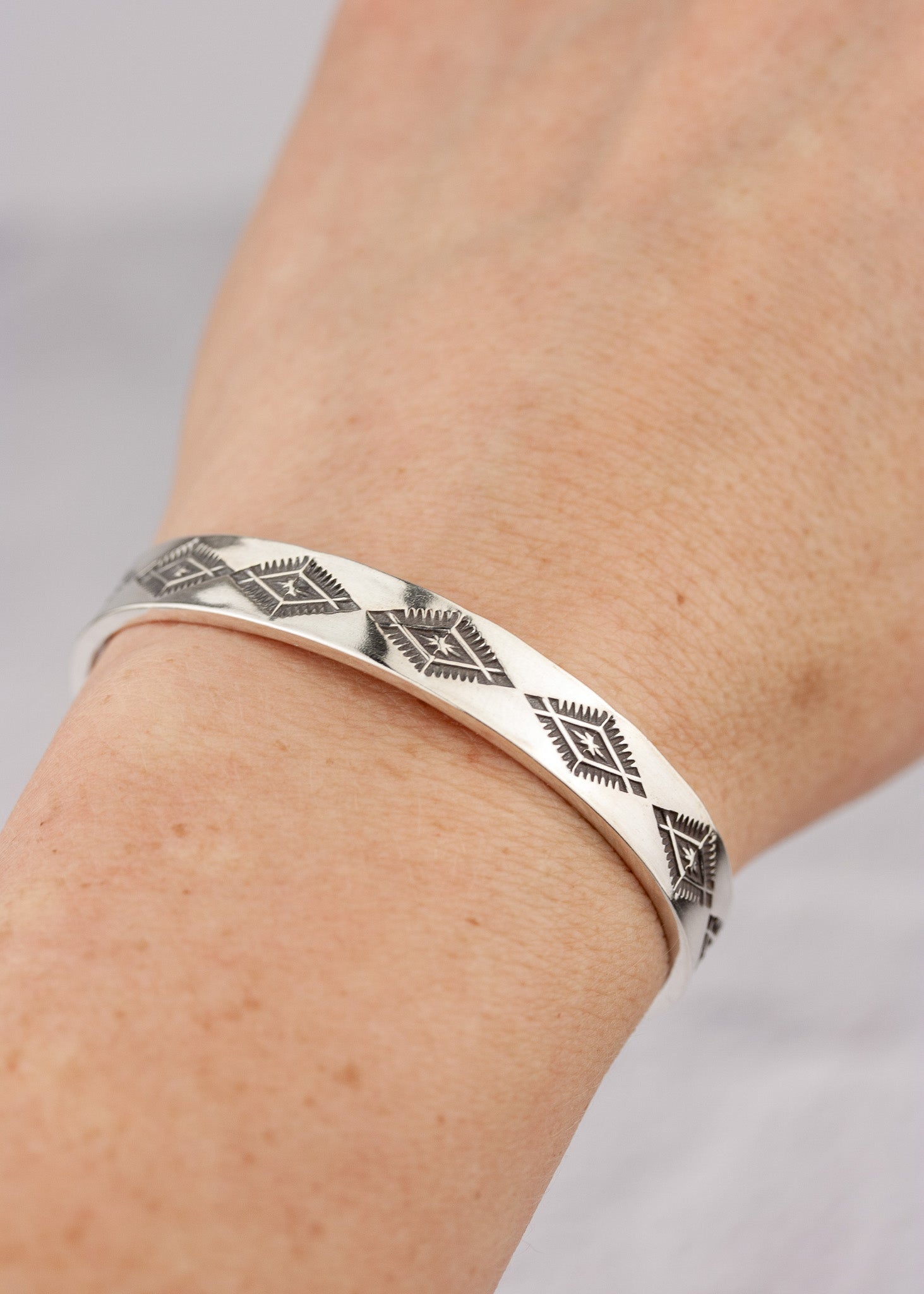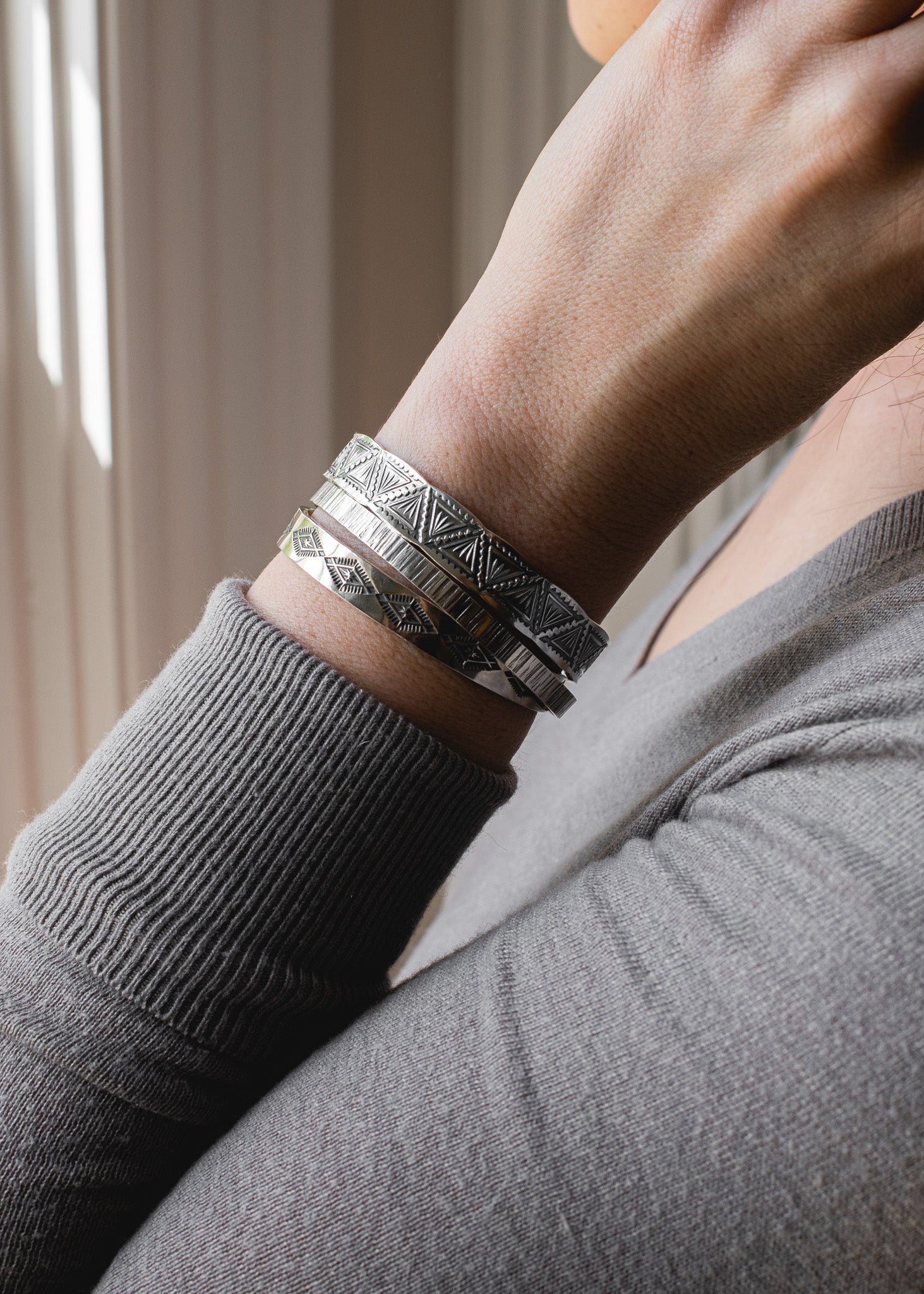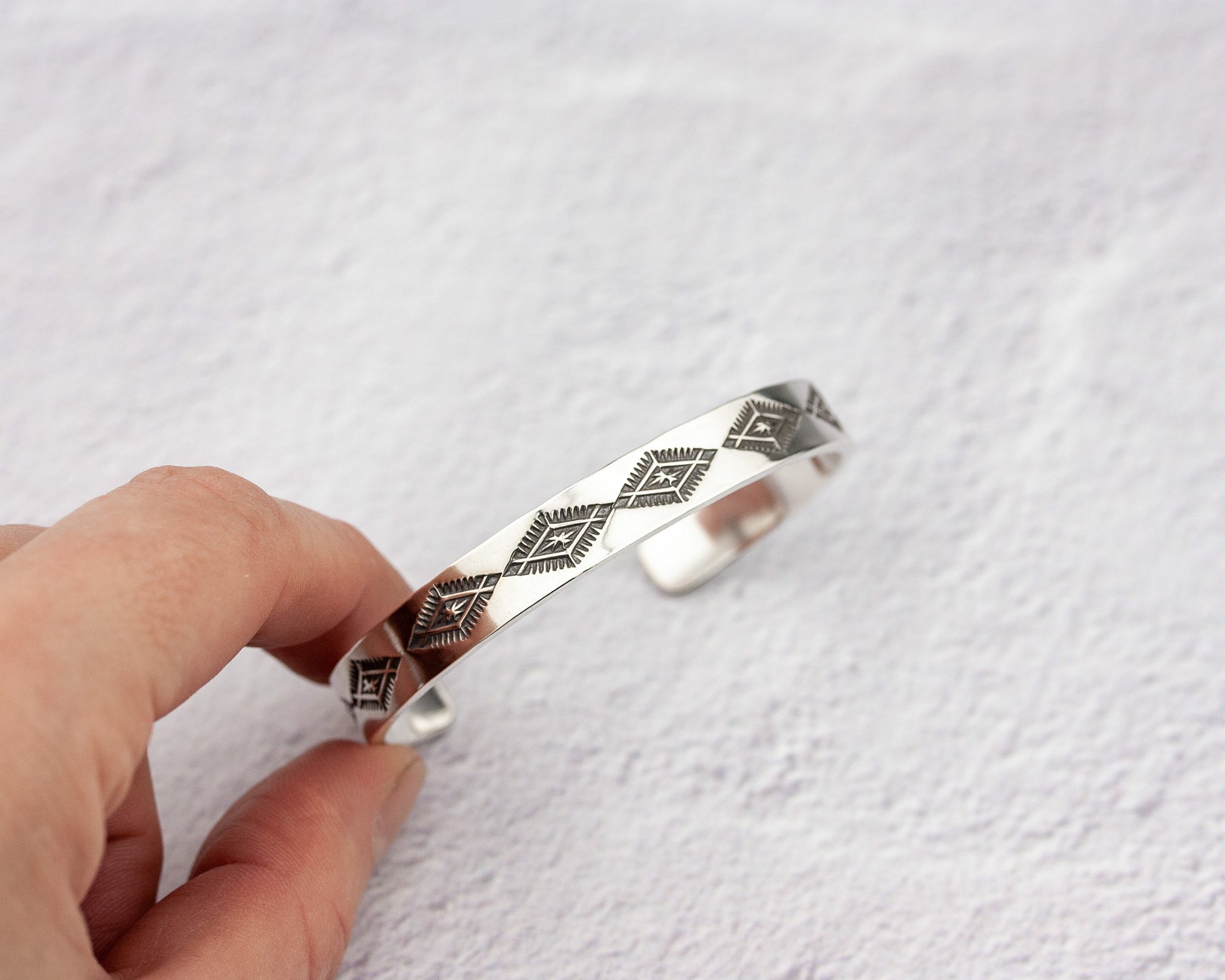 Diamonds Cuff Bracelet
Note: This is a made-to-order product. It can take up to 7 business days to ship.
Sterling silver cuff bracelet stamped with a Native American style diamond design.
Ever walked through a field at night and felt the magnificence of the universe? The imagery of the Diamonds Cuff is like meteorites shooting across the sky as though they were twinkling falling diamonds.
The night sky and space have always held a special wonder for me. My dad sent me to Space Camp when I was young and I will never forget hanging out with the other campers learning all about space and space travel.
Even now when I look up at the stars in the sky I'm in awe of how big the universe is and just how small we are and I feel like we're lucky to be on this Earth.
Lightly oxidized with a CHARCOAL (darkish gray) colored patina to highlight the details and polished. The stamp used to texture the metal is handmade by Navajo artisans.
Not too heavy with a nice solid feel on your arm. Wears well alone or layer it with smaller bangles or cuffs. Please choose your desired bracelet length from the drop down menu above.

Details:
Wire dimensions: 8 x 2mm

Length: Custom

1 inch gap between cuff ends
Please enter your desired cuff size below prior to adding this item to your cart.
FIND YOUR SIZE:
Measure your wrist all the way around with a fabric measuring tape. Like a more snug fit? Order a half inch smaller than your wrist measurement. Like a more loose fit? Order the exact size of your wrist. For example, my wrist is 6 inches around but I prefer a 5.5 inch cuff because I don't like my bracelets to move around too much.
If this is a gift, 6" is average for women and 7" is average for men.
For your wrist measurement, see this journal post.
I do not offer engraving or stamping on these bracelets.